Research shows that 1 in 8 individuals in the U.S. lose productive time from his/her job because of back pain. Studies also indicate that inadequate management of back pain can have a negative effect on your emotional well being and your quality of life.
For the vast majority of back pain sufferers in the U.S., using prescription drug therapy is the mainstay treatment. But these drugs can have severe side effects and can negatively impact your moods and your quality of life. That is why our team here at Creekwood Chiropractic believes so strongly in non-invasive spinal decompression therapy.
More and more research is showing that spinal decompression is safe and exceptionally effective. And for many patients, it considerably reduces their back pain and allows them to dramatically reduce any pain medication they are taking. The quantity, frequency and length of spinal decompression treatments necessary can differ from patient to patient, which is why it is so important for you to visit our offices for your free consultation so we can access your condition and the treatment protocol we recommend.
Also, the expertise of the therapist providing spinal decompression is an important factor in a successful treatment. Just because a clinic offers the therapy does not mean that they are at the same level of success. At Creekwood Chiropractic clinics we have always maintained an extremely high level of patient satisfaction.
Below we have provided published studies and data on motorized spinal decompression. While these studies show extremely positive results, we want to be clear that they were not done at our clinic or by our staff. But they do show the encouraging results spinal decompression therapy is achieving across the country, and reinforce why we are so optimistic about how this therapy might be able to help you.
---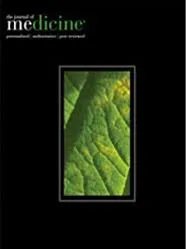 The Journal of Medicine
"Prospective Evaluation of the Efficacy of Spinal Decompression via the DRX9000 for Chronic Low Back Pain." The Journal of Medicine Sept. 2008. Print & Digital
Twenty patients presenting low back pain averaging approximately 5 years in duration were prospectively enrolled in a 6-week course of 20 motorized spinal decompression treatments via the DRX9000™ (Axiom Worldwide, Tampa, Fla). Two patients withdrew for protocol violations. For the remaining 18 patients, the baseline median verbal pain intensity score on an 11-point scale (0 = no pain; 10 = worst possible pain) decreased from 7 (25th to 75th percentile = 5–7) to 0 (25th to 75th percentile = 0–1) at study conclusion at Week 6 (P < .0001). No device related adverse events occurred. Overall, 16 of 18 patients reported clinically significant pain improvement after the non-invasive spinal decompression.
Study conducted by: John B. Leslie, MD, MBA;1 Joseph V. Pergolizzi, MD;2 Alex Macario, MD, MBA;3 Christian C. Apfel, MD, PhD;4 Darren Clair, MD;5 Charlotte Richmond, PhD;6 Frank Florio, DC;7 Martin Auster, MD, MBA8
From the 1Department of Anesthesiology, Mayo Clinic, Scottsdale, Arizona; the 2Department of Medicine, Johns Hopkins University School of Medicine, Baltimore, Maryland; the 3Departments of Anesthesia and Health Research and Policy, Stanford University, Palo Alto, California; 4Clinical Research Consultants LLC, San Francisco, California; 5Vibrance Medical Group, Beverly Hills, California; 6NEMA Research, Inc., Naples, Florida; 7Axiom Worldwide, Inc., Tampa, Florida; and the 8Department of Radiology, Johns Hopkins University School of Medicine, Baltimore, Maryland

---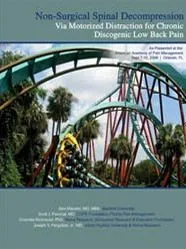 Non-Surgical Spinal Decompression

"Non-Surgical Spinal Decompression-Via Moterized Distraction for Chronic Discogenic Low Back Pain." American Academy of Pain Management Sept. 2006: Print.
The charts of one hundred random adults with low back pain lasting more than 12 weeks were studied at four clinics; one hospital-based and three free-standing. The mean pain score for all patients prior to treatment was 5.99 on a scale of 0 (no-pain) to 10 (worst pain). The results of the data reported a mean 90% improvement in back pain, and better function as measured by activities of daily living. On a 0-10 scale of satisfaction (0=Not satisfied 10=Very satisfied) patients rated the treatment an 8.98.
Study conducted by: Alex Macario, MD, MBA, Stanford University; Sunil J. Panchal, MD, COPE Foundation, Florida Pain Management; Charlotte Richmond, PhD , Nema Research, Biomedical Research & Education Foundation Joseph V. Pergolizzi, Jr., MD, Johns Hopkins University & Nema Research